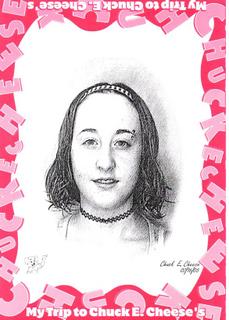 Today is my daughter's 19th birthday and to those of you who liked the picture of her in her hand-made Harley Quinn costume - it's a one-of-a-kind. There's no pattern or manufacturer for it. A pity, too - I believe a costume maker could make a lot of money with it. Or perhaps Frederick's of Hollywood or Victoria's Secret? Not a kid's costume, for sure.....
This "Chuck E. Cheese" sketch is from when Kara and Jenni were here and we celebrated an "

unbirthday

" for all of them....